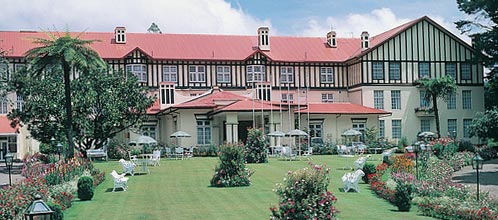 Are you in for a grand vacation? Then choose Sri Lanka and book at the Grand Hotel in Nuwara Eliya where you'll have the opportunity to experience a luxurious and relaxing stay. Nuwara Eliya literally means Little England or Switzerland of the East.
Spending a holiday in this country is very affordable so you can well afford to splurge a bit to pamper yourself and your loved ones. And the Grand Hotel promises you a memorable stay right by the time you set foot in its premises.
This luxurious hotel was built way back in the 1800's hence, this is just the perfect place to get a feel of the country's past and still enjoy modern amenities. A major attraction of this resort is its well manicured gardens including the spacious lawn
Now more than 100 years old, this hotel boasts of a British Colonial architectural design. It used to be the home of Sri Lanka's Governor Sir Edward Barnes from 1830 to 1850 during the time of the British Raj.

There are currently a total of 154 rooms here. Three are presidential suites, two are junior suites and there's also one Governor's suite.
Staying in this resort alone already might suffice for a relaxing vacation. This is because Grand Hotel provides guests with various ways to entertain themselves. There are six F&B outlets within the complex in addition to a public car and a wine bar. A billiard room is also in place with three international standard pool tables.
This Grand Hotel is internationally recognized as well. Recently,the National Geographic Traveller Magazine not only listed Sri Lanka as one of the top tourist destinations for 2012 but it also identified six places that tourists must visit while in the country. Grand Hotel in Nuwara Eliya is definitely one of them.
According to the National Geographic Traveller Magazine, this luxurious resort boasts of "pristine grounds and is an excellent example of an Elizabethan era Manor House."
Interestingly, Grand Hotel was recently declared by the Sri Lankan Tourism Authority as a four star hotel.
Photo via chakatravel.com
Originally posted on November 9, 2012 @ 3:37 pm