The whole world may be aware of the famous Buckingham Palace in London, but what many do not realize is that there is another Buckingham that would satisfy your travel cravings half a world away at Tangalle, Sri Lanka.
The Buckingham Place in Sri Lanka may sound like old-world grand but it is actually the opposite being contemporary in design. This is not surprising since the hotel is named not after the Buckingham Palace, but after owner/manager Nick Buckingham. Although the hotel is not as grand as the palace itself, it does not mean that it does not deliver in terms of luxury.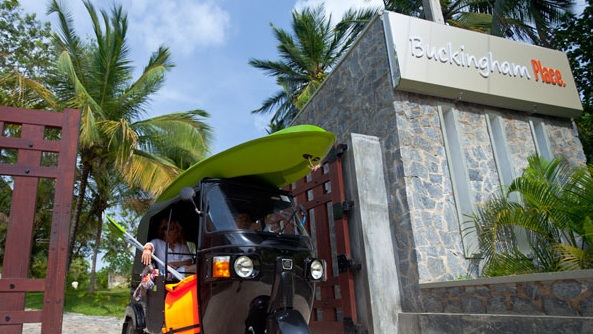 A tuktuk at the entrance of the Buckingham Place
The hotel is a pretty exclusive place, featuring just 11 bedrooms and suites all with its own balcony/veranda, bathtub (only 2 rooms do not have a tub), 6ft x 6ft double beds with sprung mattresses and high quality linen, mini-fridges, and picnic menus. Choice suites also feature open air bathrooms and a satellite TV.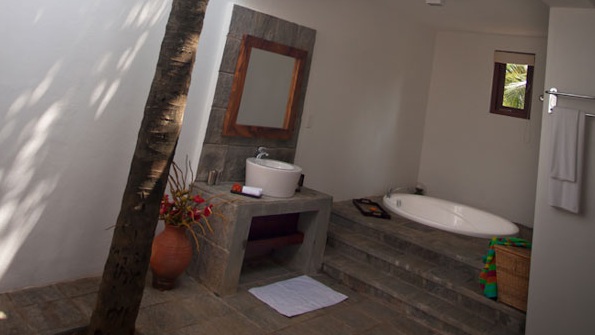 Open air bathroom in one of the suites
The atmosphere of the Buckingham Place is also truly tranquil, appearing idyllic even, with a view of Rekawa Beach's lagoon. The beach right in front of the hotel, is however, more pretty than swimmer-friendly due to big waves and unpredictable currents. Despite this, swimmers need not go too far to get wet since the hotel has its own pool. If you wish to swim on the beach though, you'll need to walk for about 15 minutes to get to a safer beach.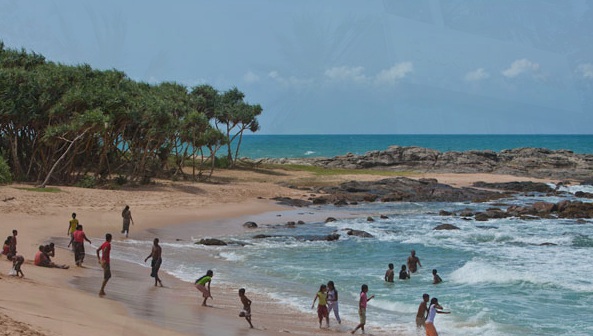 The beach
With the hotel getting rave reviews for excellent service, my only real beef about the hotel resort is that they have a 10 year-old and above policy, which means that it will be a full decade before our family will be welcome in the place. The policy is something that any guest who relishes the peace and quiet that only resort hotels like this provide, will truly appreciate.
Photos courtesy of the Buckingham Place
Originally posted on November 23, 2011 @ 10:56 pm