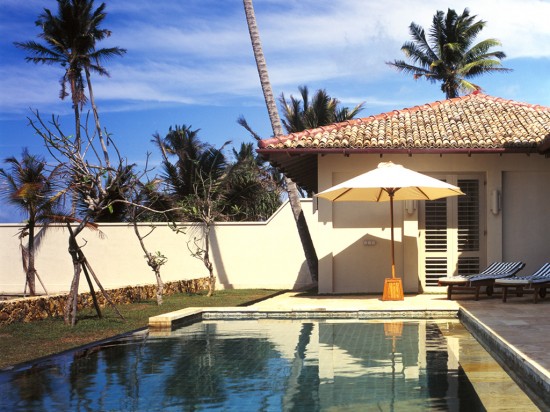 This fabulous beachside property 7km from Galle certainly lives up to its name. Ambalama means 'resting place' in Sinhalese and it is an ideal villa in which to live out dreams of a relaxing tropical holiday. The construction of the villa celebrates its exotic location, seamlessly merging the indoors with the out. Highlighted by many fascinating antique pillars and doorways this villa may takes its inspiration from Bali, but its warm hospitality and glorious setting confirms its authenticity as Sri Lankan.
Ambalama offers plenty of luxe for the traveller. Its four equitable bedrooms are highlighted by comfortable four-poster beds adorned with the highest thread count linen to be found in Sri Lanka. With multiple sets of doors opening onto the front sea view verandah, louvers provide the rooms with enough of a breeze for you to hardly ever need to use the air conditioning or fan, although both are available. With two of the modern bathrooms featuring an enclosed open air shower surrounded by a soothing tropical garden, this is barefoot luxury at its best.
The main living area of Ambalama is an airy space with cool floors, high roof and a scattering of antique furniture and local art. To one end is a cosy lounge area whilst at the other is a circular dining table for eight, overlooking the pool, garden and sea. The villa is perfectly convivial and suits many group arrangements; it can easily be transformed from relaxed and intimate into something more formal depending upon the occasion. The villa has a full complement of staff, so all you have to do is ask.
The Balinese tiled swimming pool is one of the villa's best assets. Located just footsteps from the bedrooms and living areas, the pool has an especially inviting ledge to one side from where you can sit in the sunshine and admire the view. Surrounded by a wide sun drenched terrace dotted with loungers, it is ideal for alfresco wining and dining at any time of the day. Ambalama is totally private and to the front is a large grassy lawn with access to the pristine stretch of beach just below.
One particular highlight of Ambalama is its cuisine. A lot of effort has gone into finding a great chef to create cuisine worth staying in for. Indeed, the new chef at Ambalama has worked in two of the island's five star hotels and designed a menu that amply reflects this. From succulent seafood to sensational salads and wicked desserts, there is plenty to satisfy even the most demanding guest. And, whilst you might be enjoying five star cuisine, remember you're not paying for it; guests only pay for the cost of the ingredients. Perfect! Three courses it is then.
The quoted rates for Ambalama Villa range from $600 per night in the value season to $900 per night in the peak season. We suggest that you contact the very efficient and friendly Tai via the website contact form.
Image via Sri Lanka in Style
Originally posted on November 8, 2010 @ 3:23 pm