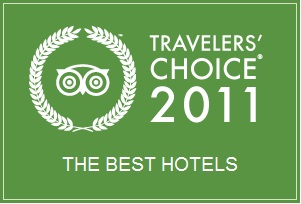 Winner of, not one, but two categories in this year's TripAdvisor Travelers' Choice Awards, the Asian Jewel Boutique Hotel in Hikkaduwa is obviously bears mentioning. This small boutique hotel has time and again pleased its guests with exceptional service, which is actually one of the categories that it placed in.
The unparalleled service that each guest receives at the Asian Jewel Boutique Hotel is credited by everyone to its owners, Dale and Tanya, whose love for their small establishment has seemingly rubbed off on their staff resulting in hardworking pleasant workers that seem genuinely happy to cater to the needs of their guests.
Each of the 5 guest rooms in the hotel are also pretty well appointed and kept really clean, with all of them having a private balcony that offers unique yet equally beautiful views of the scenery. However, only one of the rooms has a bathtub, so make sure you ask for the Luxury suite (Jasmine) if you want to relax in a tub. But since they provide really beautiful baby cots (which is always a plus for me), then I guess the lack of the bathtub in the Family suite is something that I'm more than willing to overlook.

This photo of the baby cot at the Asian Jewel Boutique Hotel is courtesy of TripAdvisor

This boutique hotel also works just like a bed and breakfast, although there's no buffet breakfast with everything you eat cooked to order. This means that the inclusive breakfast is always fresh, which is more than you can say for most bed and breakfasts, whose "free" breakfasts usually involve cold greasy meals.

This photo of a breakfast table at the Asian Jewel Boutique Hotel is courtesy of TripAdvisor

What's even more impressive about the Asia Jewel Boutique Hotel is perhaps the price, with its Deluxe rooms priced at only $110 for twin sharing, and its Family suite (2-bedroom suite) priced at only $170 for a family of four. With such reasonable prices in such a beautiful place, it is no wonder that the other category in which this hotel scored really big time (#3 in Asia) is the Top 10 Bargian Hotels category.

This photo of the Luxury suite at Asian Jewel Boutique Hotel is courtesy of TripAdvisor
Originally posted on November 30, 2011 @ 12:08 am