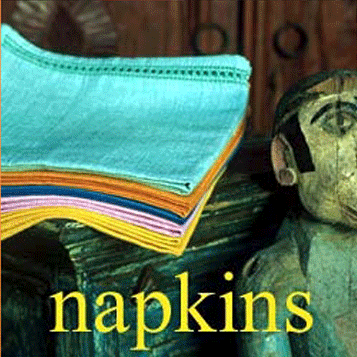 Whenever I come back from a trip to Sri Lanka, my family and friends have now come to expect something special from Barefoot – a wonderful shop of rural handweavers that make and sell the most delightful toys, home ware, clothes and art. In fact, last Christmas we gave Barefoot presents to nearly everybody – lovely hardbound notebooks and photo albums covered in a rainbow of patterns, chic hand-painted candlesticks and cushion covers, brightly colored dolls and teddies, rucksacks in the amusing shape of fish and elephants for the children (which will definitely last a lifetime) and much more- all so unique and special.
The things at Barefoot are certainly not cheap, and the reason for this is that they are all painstakingly handmade and of high quality. From the dyes used, to the weaving process, (Barefoot admonishes use of machinery), Barefoot does it all themselves and what's interesting is that the work is not done in a factory but from a cottage industry where the people take the work home and do it in their own time.
"….We teach skills & assert no time pressure on our hand weavers or needlewomen…they are not cheap substitutes for machinery… which is why our things are expensive, and will last a lifetime…"
The company was founded by Barbara Sansoni, who has also been designing there for the past 30 years. A textile designer, artist and writer, Barbara started Barefoot in 1958 with the hope of helping under-privileged Sri Lankan women by teaching them skills like dying, weaving and needlework. Today, the company is a model in sustainability and creativity- the workers earn a good wage so that they are able to support their families with dignity, the materials used are natural and non-toxic and the designers are encouraged to stretch their creativity and be innovative in what they create.
The main Barefoot shop in Colombo has a Cafe and Gallery where the calamari pasta and chocolate cake is not to be missed!. The Gallery also plays host to a number of interesting exhibits throughout the year. There are also smaller Barefoot outlets found in Galle, at 41 Pedler Street and at the Lighthouse Hotel.
BAREFOOT, 706 Galle Road, Colombo 3, Sri Lanka. Tel. +94 11 2580114
Originally posted on September 13, 2010 @ 3:36 pm