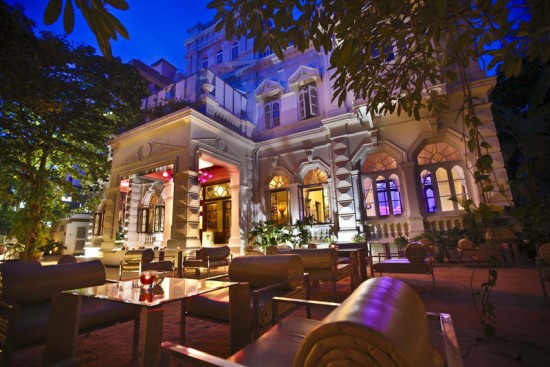 In a previous post, we gave our top accommodation pick for Colombo: Park Street. If that happens to be full or you fancy something a little different, here is our second top pick for a boutique hotel in Colombo to suit the luxury traveler: Casa Colombo. This hotel is very conveniently and centrally located down a private lane just off the Galle Road.
Casa Colombo is a stunningly restored 200 year old Moorish mansion originally built by one of the wealthiest Indian trading families of the time. Combining old world charm with contemporary design, Casa is a tribute to the creative talents of its owner: Lalin Jinasena who innovatively custom designed everything from the cutlery and crockery to the furniture and fabrics- solely using craftsmen and materials from Sri Lanka. With no reception desk, Casa Domos personally look after you during your entire stay by taking care of any needs that may arise be it getting you a poolside drink, taking you on a city tour or sending an important business fax.
While Casa Colombo retains the fabulous Moorish architectural style that includes charming mosaic floors, it is unconventionally infused with an edgy personalized design that blends contemporary furniture, vibrant colors and the very latest technology. Space is an added luxury in each of the highly individualized suites while perhaps the most striking feature of the hotel is the pink mosaic swimming pool that could easily be the only one of its kind in the world! Glass and cement canopied day beds beside it come with two tune selectors for chilling in the tropical sun ideally with a glass of the CASA Nova signature cocktail.
A fabulous choice of restaurants and bars for such a small hotel means that you get to dine out every night, however Colombo's finest are all at your doorstep. With such a central location in the capital- Casa has easy access to the city's shopping and cultural attractions, while the hotel has a private spot on Mt Lavinia Beach for the exclusive use of Casa guests.
There are twelve suites all lavishly restored. Our favorite suite (if you're feeling flush!) is the luxurious Royal Suite with its jacuzzi in the balcony- which will set you back about $400. Alternatively, book the Ebaneza Corporate Suite (which is the most spacious of its kind) for approx. $250. You can get one of the smaller suites for around $150, but then if you're looking to travel Sri Lanka on a budget– you're reading the wrong blog 🙂
As usual, we recommend contacting the hotel directly to book a room to cut out any middle men- they'll appreciate it and are more likely to give you a better deal or at the very least take special care of you!
Image via Casa Colombo
Originally posted on April 6, 2009 @ 11:52 am