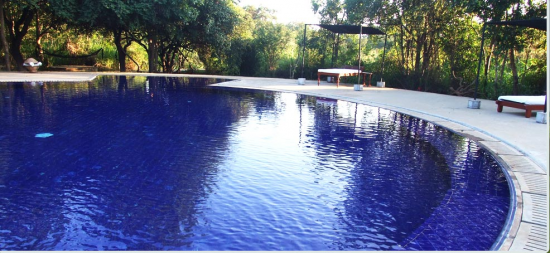 One of the finest things you can do when visiting Sri Lanka on a luxury tour is to head up north to Elephant Corridor. It's an experience that you won't forget and is truly "five star" (so often said…so rarely true!). The hotel is located in Sigiraya, which is in the "cultural triangle" or the "central region" of Sri Lanka, about a four drive north from Colombo.
Surrounded by thousands of acres of jungle, the Elephant Corridor Luxury Boutique Hotel offers you scintillating views of the nearby picturesque lake, the "Kandalama Hills" and the magnificent Sigiriya Rock Fortress.
Sigiriya is known for its ancient monastery, a World Heritage Site: the "Mount of Remembrance":
The enchanting Rock Fortress of Sigiriya is an impregnable fortress, a monastic retreat, and a rock art gallery. Built in 5th century AD to fend off a feared invasion, it is situated atop a 200m (656ft) high rock, and at the height of its glory must have been akin to a European chateau plonked on top of Uluru. There are water gardens, 5th century rock paintings of well endowed damsels, a 1000-year-old graffiti wall recording visitors impressions of the pin-ups, a couple of enormous stone lion paws and tremendous views.
The boutique hotel that is Elephant Corridor, while quite Aman in concept, is truly unique. Each room offers completely individual accommodation that is completely private and away from other guests. The rooms are not so much "rooms" as "jungle huts"- each with private plunge pools, private gardens and dining facilities where one can enjoy a private barbecue. All 21 suites have fantastic views, as well a lot of very nice touches: kimonos, hammocks, Egyptian cotton bed linen, breakfast-in-bed-trays, easel with papers and colours, allergy free pillows, down pillows, Egyptian cotton towels, designer vanity units and even binoculars. There is also special accommodation for honeymooners and those on a romantic getaway in the honeymoon suite.
With its all-suite concept of luxury accommodation, the Elephant Corridor Luxury Boutique Hotel, Sigiriya, allows you the luxury of relaxation in absolute privacy. Pamper yourself by dining on a private terrace with garden. Take a dip in your own private plunge pool. Unwind with a drink at your en-suite bar. Or, perhaps, just lie in bed and gaze across the jungle plain at the Sigiriya rock on the horizon.
Elephant Corridor also has a wonderful spa, where guests can avail of a "Personalized Intensive Regeneration Programme", based on "General Principals Of Ayurveda and Panchakarm". The dining at the hotel is also excellent- aside from the aforementioned in-suite dining, there is also a very tasty all-round menu at the Ambrosia Restaurant, as well as light dishes and drink at the "Ebony & Ivory" jungle bar and the "Fables & Tales" Library bar.
Of course one doesn't go to Elephant Corridor just to stay inside all day and one the main positives of staying there are the many activities and excursions on offer. These include bird watching, nature walks, elephant rides, archery and some adventurous tours to the local Minneriya and Kaudulla National Parks, the Ritigala Ancient Gardens, the Golden Temple at Dambulla and of course to the Sigiriya Rock Fortress.
We guarantee that we will never forget your stay at Elephant Corridor– it is truly enchanting and the staff will look after your every need (you will have a private butler) from the moment you arrive to the moment that you leave. "How much will it cost?" we hear you asking. Rates are from approx. $450 – $500 per night. Do email the hotel first, though, to see if you can get a special rate. You will need at least three nights to really take full advantage of all that is on offer.
Originally posted on February 16, 2009 @ 10:32 pm