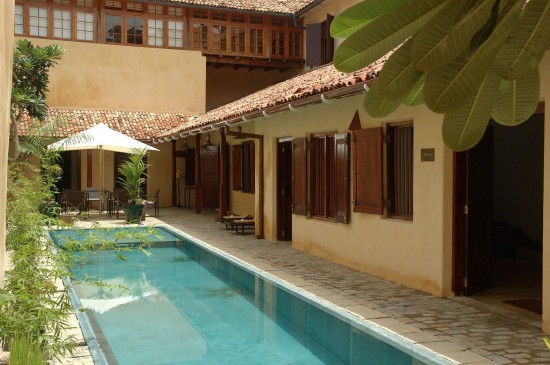 Fort Printers is an unassumingly stylish hotel. Unpretentious and quietly chic, it is for people wanting to feel like they are staying at a town villa and yet still be spoiled with a hotel's services. If you stroll down Galle Fort's popular Pedlar street (great shopping), you'll find the Fort Printers at the corner of Church street– you would immediately think the elegantly restored building was the home of some lucky expatriate and not a small luxury hotel!

There is a definite air of nostalgia here, with the black vintage car parked out front (seemingly indefinitely) and the magnificently authentic printing machine in the entrance hall, seen from the street- to name a few. Although I used the word "luxury" in the previous paragraph, I wouldn't necessarily say the Fort Printers' five suites was that- if you think of that word in terms if mod cons, designer toiletries or fancy mattresses seen in most top hotels in Asia these days. It is still very comfortable in an uncluttered boutique sense and smartly furnished with select antiques and interesting handmade crafts. The cozy library and intimate lap pool area are also great additions for tour-weary guests.
As a base for getting to know Galle Fort and it's environs, Fort Printers would be an excellent choice because of it's ideal location close to the shops, restaurants and picturesque ramparts. The food is also known to be excellent (try the delicious Mezze menu) and considering what you get for the reasonable rate of around $120 a night (low season), including tax, you could be tempted to stay longer than planned. Or better yet, invite some friends and rent out the entire hotel for a mere $600. Another good option would be to book the "Beach-Fort" promotion, which combines a stay at its sister hotel, the lovely Frangipani Tree for a very affordable price, including breakfast and transfers.
Image via Sri Lanka in Style
Originally posted on July 8, 2011 @ 1:39 pm