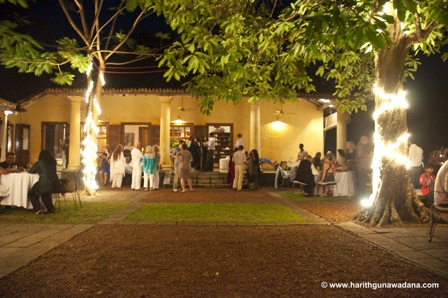 For the last two years, Geoffrey Dobbs (owner of the Sun House hotel) has organized a literary festival in Galle and it has become a huge success, with tickets sold out well in advance, hotels and villas booked choc-a-bloc and a roster of famous writers visiting that would impress any literary enthusiast.
This year's event will be held in and around the world heritage site of Galle Fort from the 28th January to February 1st. Writers this year include Thomas Keneally, Germaine Greer, Pico Iyer, Edna O'Brien, Romesh Gunesekera, V.V. Ganeshananthan, MJ Akbar, Giles Milton, Moses Isegawa, Michael Morpurgo and many more.
The continuing popularity of the Galle Literary Festival is owing to the huge energy of Geoffrey and the many other residents of Galle Fort over the last two years. In 2008, noteworthy authors included Alexander McCall Smith, Gore Vidal, Vikram Seth and William Dalrymple. And such famous writers were joined by many renowned Sri Lankan authors and personalities- Kumar Sangakkara, Jean Arasanayagam, Nury Vittachi and countless other budding young authors, chefs, photographers and even bloggers!
You may be asking yourselves…"so where is the luxury here?" Well that's just it really- the Galle Literary Festival is more than just a series of lectures, discussions and events. In fact one suspects that all that may be just an excuse for some serious indulgence- be that delicious lunches and dinners in the most glamorous private villas of the rich and famous, or gourmet extravaganzas at many of the local boutique hotels cooked by top chefs from around the world, or if you are inclined to be more cultural there are events such as a visit to Geoffrey Bawa's "Secret Gardens", where David Robson and Dominic Sansoni (authors of "Bawa: The Sri Lanka Gardens") guide you on a tour with all the inside stories. This is just one of many events and tours arranged around the festival, which make it that much more special- an individual experience where you are really mixing with those "in the know".
For more details on the festival, do visit the official website. It's hard to think of a better last-minute luxury holiday one could recommend if you can still get a ticket!
Image via Galle Literary Festival
Originally posted on January 18, 2009 @ 7:39 am