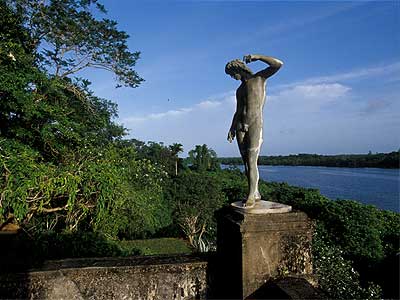 The gardens at Lunuganga are a rare tropical Eden created by Geoffrey Bawa, Sri Lanka's most influential architect. And what started out as an abandoned rubber estate, is now one of the most unique places to stay in the country. Over a span of 50 years, Bawa lovingly made this enchanting house and it's gardens his spiritual home, which is known today as his most personal life's work. The intriguing estate in the coastal town of Bentota has interesting history of evolution:
Bawa never kept a systematic record of the evolution of the garden and its chronology is now hard to unravel. One fascinating diary of events is provided by a large leather-bound visitors' book containing a plethora of photographs and sketches as well as signatures and greetings: in 1965 Ulrik Plesner reflects on the problems of the Hilton project; in 1966 Ismeth Raheem records having seen over forty species of bird during one afternoon; in 1973 Donald Friend leaves a doodle of his museum on Bali; in 1997 President Kumaratunga approves the designs of her new Official Residence; and in 1998 Prince Charles drops in for tea.

Perhaps the most memorable visit of all, however, was on 3 January 1988 when a friend called Ray Wijewardene flew down from Colombo in a microlight and, misjudging his landing, crashed into the main roof of the bungalow.
Today, magazines like GQ and Conde Nast Travel have called the property one of the best "boutique hotels" in the country, but what makes it so special is not its luxurious edge, but its historical significance, its tranquility, its unique artistic temperament – both refined and wild.
Lunuganga is an artist's retreat for most of the year, where The Bawa Trust invites selected artists to stay and soak in the inspiration.
But even if you're not an artist, you can get a taste of the Bawa experience from December to April, when the chic Lunuganga resort is open for a brief spell to the public, now run by Geoffrey Dobbs, the man behind many of Sri Lanka's best boutique hotels. The gardens are rather large in 25 acres of lush greenery in the Italian style, owing to the years Bawa spent in Italy, which they say, led him to dream of creating a civilized Italian garden in the wilderness of Sri Lanka's coast.
Guests staying here will delight in the unexpected delights the gardens have to offer – from romantic loggias and courtyards, to secret areas, pretty ponds and stunning views – of jungles, paddies and a lake – all perfect for picnics or quiet contemplation. While the outdoor spaces merge with indoor spaces, the overall style of the accommodations are startlingly simple – probably so as not to deter from the glory of the gardens.
Still, it is done with the utmost style, and together with the superb food and drink (try the bracingly delicious Lunuganga Sour and the comfort food prepared by non other than Bawa's cook Catherine), the six ensuite bedrooms spread out from the main house to Bawa's studio, to the house on Cinnamon Hill, are all elegantly and comfortably furnished, with private butlers at your disposal.
Lunuganga is two hours drive from Colombo and prices start at just £155. For more information or to book your stay, contact the Geoffrey Bawa Trust or various travel companies like Sri Lanka in Style. But before you do, here's something by David Robson who wrote Geoffrey Bawa: The Complete Works:
In 1948 as Sri Lanka was shaking off the shackles of empire, a young man dreamt of making a garden. Today the garden is in its prime but, after the passage of over fifty monsoons, Sri Lanka has lost its innocence and the young man has grown old. As he sits in his wheelchair on the terrace and watches the sun setting across the lake it may be that he reflects on his achievement. Perhaps the garden had simply been waiting there for him to discover it beneath a canopy of jungle?

But this is a work of art, not of nature: it is the contrivance of a single mind and a hundred pairs of hands working together with nature to produce something that is 'supernatural'. What should become of this magic world? Ought it to be frozen or preserved? Ought it to become a national monument maintained by bureaucrats and trampled over by thousands of souvenir-hunting tourists? Better by far to let the jungle swallow it up than to see it turned into a travesty of its former self.
Originally posted on August 4, 2010 @ 9:16 am