Sri Lanka has so many things to offer tourists visiting from around the world. Whether it's beautiful places, food and souvenir items, the country offers plenty of choices.
Tourists on the hunt for great souvenir items will not be disappointed when in Sri Lanka. With the country's rich artistic traditions, one can surely find interesting and well made items they can take home or give as gifts to family and friends back home.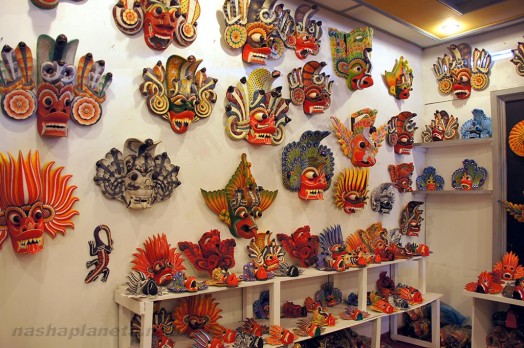 Take note that Sri Lanka is home to artisans capable of creating unique souvenir items and home decors from different media such as wood, stone, ebony, lace, lacquer and batik. Handmade crafts are available at major resorts as well as in specific areas. It's best, however, to take the time to go around to be able to find more quality and excellent crafts including antiques at great prices.
Traditional Masks
One of Sri Lanka's popular crafts is the mask. These masks are used traditionally during ritual kolam dancers in exorcism ceremonies to ward off the bad spirits. Gruesome in appearance, these masks depict the wild-eyed demons and feature tangled hair.
Most of these masks are made in the west coast town of Ambalangoda. There, workshops are open to visitors. There's another big workshop at the Ariyapala and Sons Mask Museum which also sells quality masks. The Southland Masks at the Main Road is another option.
Batiks
The batik originated from Indonesia but the Dutch introduced the art of making this unique fabric to Sri Lanka. Today, many factories and smaller workshops create various types of batik clothing and pictures.
Dudley Silva has a workshop at Elpitiya Road in Ambalangoda that showcases and sells batik pieces. His items have been exhibited in Europe.
Another place to visit for some great batiks is Jezlook loccated at St Yehiya Road in Matara. Owned by Jezima Mohamed, the shop's well known customer is Queen Elizabeth.
Lace
Lacemaking in Sri Lanka dates back in the 16th century. The Portugese introduced this form of art to the country.
If you're looking for top quality laces, the best places to visit are Galle and Weligama. There's also Shoba Display Gallery in Galle which features the works of local lacemakers and Sewa Lanka Lace Showroom which can be found along the coast of Dickwella. Meanwhile, the Dickwella Lace Centre is a women's cooperative set up to revive the lacemaking craft in the island.
Originally posted on April 23, 2021 @ 3:43 pm