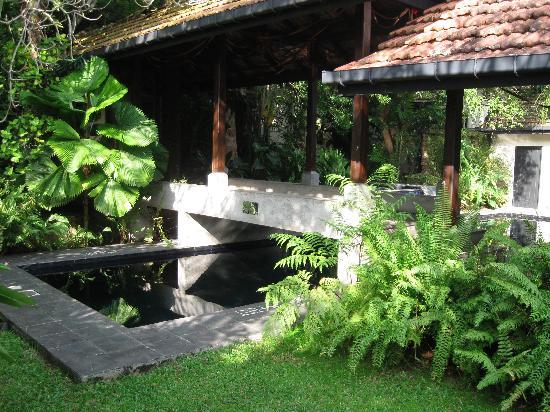 After a long day shopping and soaking in the fascinating sights of Colombo, Havelock Place Bungalow is the perfect place to come back to. Its existence has always been a cherished secret to those 'in the know'. Described by many guests as an oasis in a busy city, this elegant retreat tucked away down a quiet leafy cul-de-sac in the heart of the capital was in fact Colombo's first boutique hotel and prides itself on its high standard of personalized service in a homely and comfortable setting. Built in the 1940s, the hotel consists of two bungalows, which have been cleverly combined and entwined within a landscaped tropical garden, that provide all modern conveniences within a charming colonial setting.
Having initially opened as an art gallery, fascinating paintings and prints still envelope the walls of the villa especially in the comfortable living room which, with its little library is the main social focal point to the property. Housing three suites and four standard rooms, each with their own courtyard or garden access, Havelock Place Bungalow has a surprisingly large garden full of flowering plants, shady trees, lush foliage and little ponds. A swimming pool and Jacuzzi is located beside an outdoor terrace with a little spot for sunbathing.
Being centrally located in the capital, Havelock Place Bungalow is the ideal place to rest at the start or end of your holiday, or as a base for exploring the exciting museums, historical sights, temples, parks and beaches that Colombo offers. There are many renowned restaurants close by while the villa is a perfect base for some last minute shopping at the end of your holiday.
The charming little hotel comprises seven comfortable and homely rooms – three suites and four standard rooms – each decorated and furnished in a different style with access to a private terrace or to the garden. Rooms come in different shapes and sizes but they are all stylishly decorated with genuine antiques including canopied four poster beds, interesting writing bureaus and wardrobes. Wi-Fi is available and all rooms have telephones. Each is air-conditioned and has en-suite bathrooms with hot water available throughout the day.
Havelock also offers excellent home cooked cuisine which has been consistently highly praised by past guests. Cooked by expert local chefs – under the supervision of Havelock's owner Sharmala – who combine the freshest local ingredients with western cooking styles the result is a fusion of flavours that include Italian and Mediterranean specialities. The daily menu is written on a blackboard every day with choices of specials based on whichever ingredients were the freshest and best that morning when the chefs went to do the shopping. The fabulous selection of home-made ice creams and sorbets made by Sharmala should not be missed – we recommend you try the passion fruit sorbet. Delicious!
Meals may be served to you in the bistro-like restaurant or even out in the tropical garden. If you prefer to dine in your room or suite this can also be arranged – emphasis on personalized service is very important here. Breakfast consists of either western, Sri Lankan or Continental variations and along with the main meal dishes are all very reasonably priced. They also offer a good selection of imported wines.
The rates for accommodation range from $80 for a standard room and $130 for a suite. As usual, we recommend that you contact the hotel directly to make your booking.
Accreditation: Sri Lanka In Style
Originally posted on April 14, 2011 @ 9:01 am