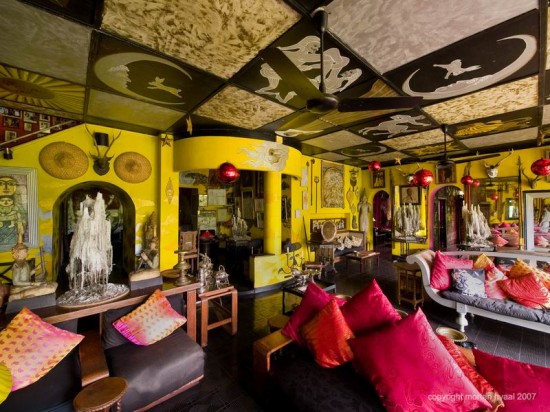 Up in the leafy hills of Kandy in the central part of the country, you'll find the most extraordinary hotel- a technicolor vision of the old-world-meets-Goth, called Helga's Folly. It's a hotel and restaurant you'll either love or hate – where literally every inch of space is painted or decorated with bright colours, fantasy murals, dripping candles and glitzy accessories crossed with the traditional – old paintings, antique furniture, stuffed animal heads and a wind-up gramophone playing Ella Fitzgerald.
Helga's Folly is presided over Helga herself, a glamorous Anglophile in Jackie O sun glasses, with a tendency towards the eccentric:
"This is my home and I want everyone who visits it to feel at home. That is the point. I call it an Anti-Hotel! We give our in-house guests complimentary afternoon tea and before dinner serve cocktails and canapes. I try to make it feel like home. The main thing is that people must come back! And we are lucky enough to have a few that do return!"
Helga was described by the Times as "a benevolent Cruella deVil, complete with pet dalmatian" and the hotel was the home were she was raised. In those days, guests were people like Sir Laurence Olivier, Vivien Leigh and the Ghandis. These days it is fashion/rock star-types (Paula Yates reportedly loved it) and travellers looking for something different. Very different indeed! Helga comes from an illustrious family, and is the mother of British designer Selina Blow. Her history and exciting life is seen throughout the house, which is full of interesting memorabilia in every room.
But while the hotel rooms are lavishly over-the-top in style, it has been reported that they are in need of a face lift. You can choose from a variety of 40 rooms, all with wonderful balconies with views and air conditioning- from standard to the nutcracker suite, complete with a four-poster bed. A cinema room with DVDs for children was recently added, and parents will also be happy to know that the lovely staff here will entertain their children while they have a romantic dinner under the stars (at Helga's you can choose to eat almost anywhere you please!). Facilities also include a swimming pool, lush gardens and a spa.
Whether or not this unusual place is your cup of tea, it is definitely worth a visit when you are in Kandy, which is easily one of the most picturesque places in Sri Lanka. Stop by for lunch at the very least as Helga's now serves "Organic and Innovative" cuisine, and have a look around at this unique property- an unforgettable experience into Helga's imagination.
Prices begin at $145 for a standard room, with breakfast $155. The Nutcracker Suite costs $440 a night, half board. For reservations, you can book directly thorough the hotel here.
Originally posted on March 16, 2009 @ 11:16 pm