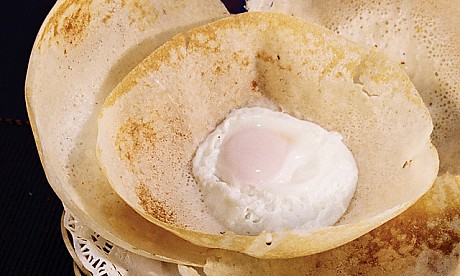 Crispy on the edges, smooth in the center with a variety of lovely (and spicy) fillings to choose from, Hoppers are, hands down, my favourite Sri Lankan dish. These delightful pancake-style dishes are only found in Sri Lanka, and although there are different varieties you can have for breakfast, lunch, or even dinner, many locals have them for breakfast on a weekend, when they can take out their hopper pans and make them at home.
Hoppers (also called Appa) are another food native to Sri Lanka, served mainly for breakfast or lunch and often accompanied by Lunu miris, a fiery hot mix of red onions and spices. Hoppers are made from a fermented batter of rice flour, coconut milk and a dash of palm toddy, which lends a sour flavor and fermentation ability. If toddy is not available, yeast is often used. The batter is left to rise, then cooked in a hemispherical wok-like pan. There are many types of hoppers including egg hoppers, milk hoppers, and sweeter varieties like vanduappa and paniappa.
One can find hoppers all around Sri Lanka, from the street shops, restaurants, your hotel, or even the mobile hopper man, who would have them in a cart attached to his bicycle. Many hotels, like the Hilton, even hold Hopper Festivals, where their chefs put on a display of making an assortment of the little delights. The Hilton in Colombo also serves hoppers at it's popular restaurant, the Curry Leaf, a pretty outdoor venue. In Galle, I had egg hoppers for breakfast at the Amangalla, which were excellent. Served with a delicious coconut sambal and other chillies, it was one of the best breakfasts I've ever had!
Photo via Pragathi Cafe
Originally posted on January 21, 2011 @ 8:31 am