Sri Lanka as a top tourist destination may be unheard of for many people. But there are gems to be found in this country that tourists need to check out.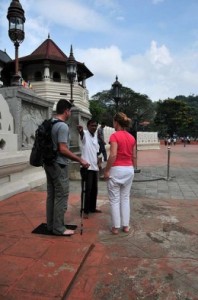 The thriving tourist industry in Sri Lanka is one reason why employment here is also enjoying better days. A report from the Finance Ministry revealed that jobs in this sector went up by 5.6 percent in 2010 compared to the prior year. Compared to the 2009 figure of 52,071, direct employment opportunities in 2010 surged to 55,023.
Officials from the travel industry are expecting more direct and indirect jobs moving forward. They're projecting a four-fold increase through 2016.
These so-called direct jobs are in hotels and restaurants, travel agencies, tour operators, tourist shops, national tourist organizations and airlines. Indirect jobs, on the other hand, are those involved in food and chemicals, laundry services, souvenir making, maintenance, transport and beach vending. These types of jobs are seen to have a huge impact as well on various industries such as gem and jewelry, IT, food and beverage, construction and handicrafts.
Skilled labor is not very sufficient in Sri Lanka the reason why more workers are needed particularly in hotels and other service-oriented establishments. Research has shown that every hotel room requires an average of 1.75 employees. Five-star hotels need at 2.5 employees, a four-star hotel requires 2.2 employees, 1.5 for two-star hotels and 1.1 for single star hotels.
Sri Lanka welcomes migrant workers as well. In fact, the country has a Bureau of Foreign Employment that oversees the welfare of workers from other countries whom the government considers as instrumental in improving its economy. The bureau also provides information on employment rules and regulations and conducts trainings to prepare migrant workers for their work and to enable them to adjust well to their work environment.
For those interested in applying for tourism jobs in Sri Lanka, the country's Tourism Development Authority provides training programs. The training is for travel agents, tour guides and chauffeur tourist guides and is conducted by the Institute of Tourism and Hotel Management. Qualified to apply are those aged 18-45 years, those who know a foreign language and have at least two years experience in the field.
Photo via rumbling.hubpages.com
About the guest author:
Beth is a human resource manager who confirms that jobs in the tourism sector continue to be in demand today. She recommends to aspiring travel agents to try using a travel recruitment agency online when applying for their desired jobs in the industry.
Originally posted on October 3, 2012 @ 3:18 am