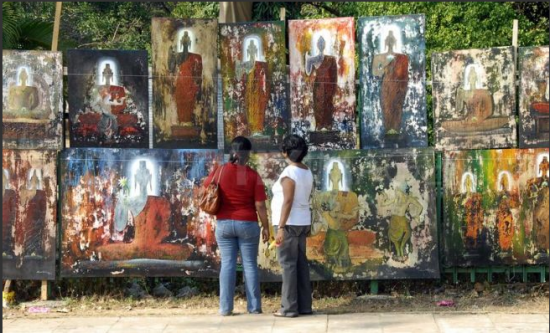 Sri Lanka is well known for its festivals, and the month of January is one of the best times to visit this country. I already shared the Galle Literary Festival with you. The excitement is actually building up exponentially as the time draws nearer and nearer. Before this festival is held, however, there is another art festival that you should know about: Kala Pola.
Dubbed as Colombo's grandest open air art festival, Kala Pola is traditionally held on the third Sunday of January. This festival is relatively new – it started only in the early 1990s, thanks to the genius of George Keyt. This man has impacted the Sri Lankan art culture in unparalleled ways, giving birth to a foundation named after him. Keyt's supporters founded this organization in an effort to support and promote Sri Lankan artists and their works. More on George Keyt from Art Sri Lanka:
Promoting art and assisting Sri Lanka artists including painters, sculptors, musicians and writers, establishing a gallery of modern Sri Lanka art, restoring and preserving George Keyt's work in all media, publishing writings and reproducing works of art of George Keyt and others to enable more and more people to have access to them.

Drawing from the inspiration and contribution of George Keyt whose life spanned almost the whole of the 20 Century – as a Painter, Poet, and Writer was a legend in his life-time, the George Keyt Foundation has in over twelve years made a major contribution to promote the Arts, and in a way revive it from the end of the nineteen eighties.
Today, the foundation continues to host Kala Pola at the Viharamahadevi Park in Colombo. The festival has indeed gone a very long way. From the 35 or so artists that took part in the original festival, there are now hundreds that participate and showcase their talent during Kala Pola. Artists come from all walks of life with all sorts of talents: painters, sculptors, etc.
The Kala Pola is actually reminiscent of the open air art galleries or fairs that are held in many European countries during the summer period. The atmosphere is relaxed and yet tinged with the passion of artists. One really important thing to remember about this art festival is that it showcases not only those artists who have already made a name for themselves, but it also provides a chance for budding and struggling artists. The latter group actually benefits a lot from the festival as they get the exposure that they may not have otherwise. From an art enthusiast's point of view, this is the perfect chance to discover artists and their work. After all, you never know what you may find as you're strolling along the streets of the art fair.
Art enthusiasts – especially those who are interested specifically in Sri Lankan art – should not miss this festival. The grandiosity of the display and the amount of interaction with artists and other enthusiasts are something that one may experience rarely in a lifetime.
Image via Demotix
Originally posted on January 22, 2010 @ 12:14 pm