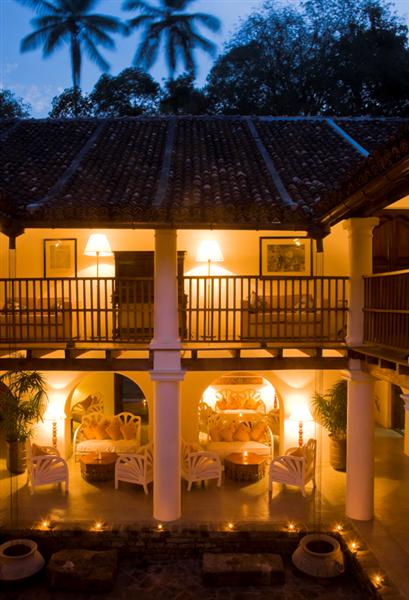 In a previous post, we featured Helga's Folly, our pick for an unusual place to stay in Kandy. However, this is not everyone's cup of tea and many people do find it lacks the necessary comforts. And so here we feature our second top choice in Kandy: Kandy House. Even if you do stay at Helga's Folly and have the time, this beautiful boutique hotel is evidently well worth checking out. The hotel is located 12km from the center of Kandy and about a three and a half hour drive from Colombo airport. It is extremely tastefully and elegantly decorated and set amidst an authentic jungle.
Formerly the grand ancestral home of one of Kandy's most influential aristocratic families, Kandy House sits on 6 acres in a quiet village area close to Kandy. Filled with antique furniture, there are nine suites set around a central two storied courtyard and a ninth room in the garden. From the veranda where guests have breakfast and dinner, the garden descends to a palm fringed infinity pool designed in the shape of a traditional paddy field.
Kandy House was restored in a style that combines classical Kandyan period architecture with Dutch colonial furnishings and a soft, colorful and elegant finish. Large shady verandas, double hammocks and tropical lawns encourage one to find a comfortable and quiet corner to relax or read. Kandy House is a good base to explore Kandy and its surroundings: the botanical gardens, the Temple of the Tooth and the magnificent Victoria Golf and Country Club.
The menu is comprised of Oriental, Western and Sri Lankan specialties. Favorites include sugarcane prawns, juggary-cured tuna, jak seed gnocchi, chocolate-chili-cinnamon pudding and homemade durian ice cream. Everything is bought fresh from local markets each day. Breakfast and dinner is served on your own veranda or in the dinning veranda overlooking the garden. Dinner is always preceded by cocktails in the Butterfly Bar on the courtyard. Madhur Jaffry, the renowned connoisseur of Eastern food, once said: "I could settle down and live here!"
As this is one place that we haven't actually stayed in ourselves (although we have heard great things from friends), we thought that we'd do a bit of digging up of travel reviews. 90% are excellent, for example this review from Trip Advisor:
The Kandy House is set in the hills in Kandy and is a beautiful colonial house. There is no air conditioning but I do think this would detract from the overall feel of the place if it were there. The fan in the room above the bed should be enough to keep you cool and in the early morning we found ourselves covering up as the area cooled in the shade of darkness. The house only has 8 rooms but each has its own style. We went for the big veranda room with a four poster bed, separate study/lounge area, veranda and victorian roll-top bath with separate shower. the room looks and feels lovely. The whole place has a really relaxed feel and the food is superb. On the day we left we had to be up early to travel to Colombo for our flight. The staff had made up a breakfast pack for us with water, fruit and delicious sandwiches.

There are a few games set up for the guests to play. We discovered one that looked a bit like draughts but involved flicking the pieces into pockets. two of the staff came over and saw we were struggling a bit so they gave us a great lesson in how to play the game. It feels like a family place rather than staff/guests/management. Everyone who was there seemed completely chilled out. Try out the pool, loungers and swing at the back of the house.

Sri Lankans are relaxed, friendly people and both this and the Fortress in Galle had picked the best staff possible. Really enjoyed my stay!
The 10% of negative comments seem to be in regard to two things- firstly that no children under twelve years old are allowed to stay and secondly those guests who missed having an aircon. So either of these two things are prerequisites for you, don't stay at Kandy House. Many actually liked having no aircons and found the fans ample for cooling, and of course there are those discerning luxury travelers who couldn't be happier to know that there will be no screaming children about 😉
Rates for the nine suites vary hugely, as each one is different, but approximately you should expect to spend from $200 – $350 per night. As usual, we recommend contacting the hotel directly to make your booking.
Image via The Kandy House
Originally posted on April 22, 2009 @ 1:14 pm