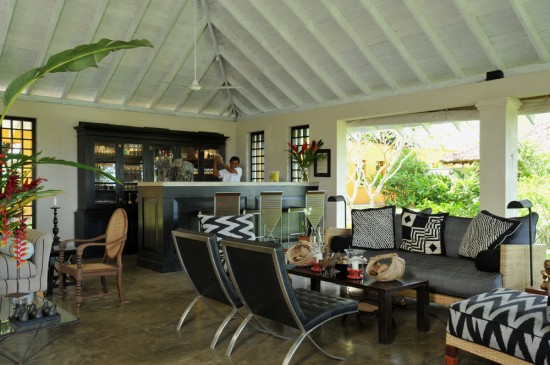 Upon arrival through Kahanda Kanda's unassuming gates, you have to admit that you have indeed entered a very beautiful place. The tea bushes are everywhere and the buildings are all done tastefully, seamlessly blending into it's natural surroundings. The bright orange wall and tower were a great touch, giving a sophisticated yet ethnic feel to what would otherwise be like so many other places in the Galle area.
Kahanda Kanda rather beautifully translates into yellow moon mountain, and is a chic boutique hotel in a working tea plantation. Once the home of Englishman and interior designer George Cooper, this hilltop retreat has been receiving quite a lot of praise as being one of the top small hotels in the area.

We were welcomed to what seemed to be the bar/sitting room area and a very nice waiter (who may have very well been the famous headwaiter Henry, we can't be sure) offered us drinks, but as the place was virtually empty except for a loud couple, we decided to proceed to the dining area in the pavilion adjacent. Through a very attractive (but lethal if you had more a few) watery walkway we went, and we were seated and served our Bloody Marys after a longish wait. The drinks were fine, but not quite as good as Charlie Hulse's!
We were presented the set menu (around $20 a head), which looked perfectly decent:
Curried soup
Green Papaya and Chicken Salad
Choice of puddings (we chose the Coconut & Orange flan)
The service was on the slow side, but no complaints there as the place had such a relaxed and peaceful feel anyway that anything faster would have been irritating. While waiting, we enjoyed the views from the restaurant, overlooking lush jungle and part of Koggala Lake which were absolutely breathtaking.
The food arrived, and the curried vegetable soup was creamy and flavourful. The bread served alongside was homemade and delicious, but the butter (or was it margarine) was on the rancid side. The green papaya salad was plated well, and certainly was tasty, but much too hot and spicy. One of our lunch companions couldn't eat it at all! Now I can eat a spicy curry with gusto, but I had to agree with him on this one. We all enjoyed the pudding of coconut flan though, which helped put out the fire!
Our verdict? The setting is outstanding, the service good, the food could be better (given the price – but then again, this is indicative of many Galle hotels I'm afraid). We only peeked into the rooms, which looked smart and comfortable. We'll definitely be staying here soon! Prices start at just $230 in the low season and numerous special packages are available now.
Image via Kahanda Kanda
Originally posted on May 5, 2011 @ 7:22 pm