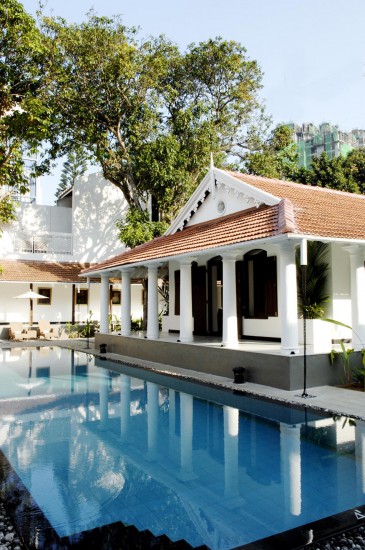 The majority of "luxury" hotels in Colombo are those big, grandiose "chain hotels", part of much larger hotel groups. Examples of these would be the Hilton, the Cinnamond Grand and the Taj Samudra. While they may be quite comfortable and convenient, they certainly lack the charm, individuality and exclusivity of a "boutique hotel" that the discerning traveler is looking for.
By far the best of such luxury boutique hotels in Colombo is the Park Street Hotel. Situated right in the heart of the city near to all the major restaurants and shopping centers, Park Street is an oasis of tranquility and elegance, set within two acres of beautifully landscaped gardens. Formerly the home of a colorful and eccentric couple who were members of Colombo's "elite", this 250 year old building was stylishly converted into a hotel by the Taru Villas Group, who own a collection of such boutique hotels around Sri Lanka, yet it retains all the original charm and authenticity of its previous look as a home, so that it really doesn't feel like a hotel at all!
There are twelve rooms at Park Street, but calling them rooms is an understatement. Each room is larger and more luxurious than any suite one would find at one of the large, commercial hotels. Huge double-size king beds, a private dining area, an enormous jacuzzi- all decorated with top of the line furnishing in the "Modern meets Colonial" style of the Taru Group. The food is excellent, the swimming pool a delight, the massages heavenly and one has all the usual mod-cons in case one has to do some of the more serious stuff: a business center, WiFi everywhere in the hotel, an excellent gym and a very impressive library.
If you are looking for something a bit different and away from the usual commercial accommodation (and if you're not, you shouldn't be reading this blog!), then this is the ideal place for you to stay in Colombo. Rates are approx. $250 per room including breakfast and taxes, although if there's availability you can bargain down to $200 by dropping Taru's name (the owner). The booking form is here.
Image via Sri Lanka in Style
Originally posted on January 22, 2009 @ 10:07 am