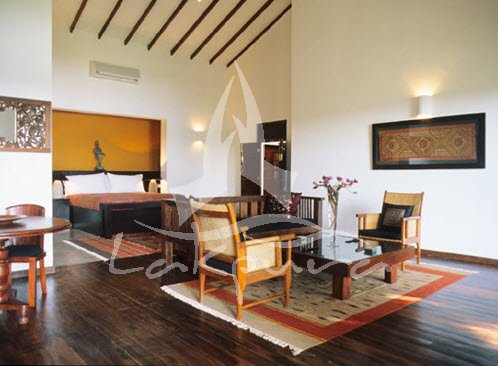 In an previous post, we featured the most elegant place to stay in Colombo: Park Street, developed and run by Taru Villas. Another Taru Villas property well worth exploring is The River House, located in Balapitiya, near Bentota– about a two hour drive south of Colombo on the road to Galle.
Renowned fashion designer, Taru, has surpassed herself and "Sri Lankan Boutique" in this luxurious villa along the coast from sister in quiet Balapitiya at the mouth of the Madu Ganga.

Set on a belt of coconut plantations 500m inland, the surroundings are peaceful woodland. The forest hosts many birds, and you may make an interesting visit to the nearby prawn farm on the river that borders the garden.

An excellent opportunity to join friends in stylish and spacious suites and be waited upon by any of 15 discreet and extremely professional staff, attending to the garden, housekeeping and dining.

Taru's colourful and symmetrical style blends natural stone and wood with a profusion of Asian antiques.

Relax in your private Jacuzzi under the stars, stroll down to the pavilion and take a dip in the glistening pool, or explore Ambalangoda's antique labyrinths for Sri Lankan mementos. Travel up river in your private motorboat,cut the engine and reach for your fishing rod.
At The River House, you will truly get to savor modern luxuries and peaceful privacy in stylish comfort. Whether you choose to spend your days in quiet relaxation surrounded by unspoiled natural beauty, or you are looking for a base to explore the South of Sri Lanka, The River House is a choice we recommend. The hotel is surrounded by 7 acres of lush land, bordering the tranquil Madhu estuary. Activities include canoeing up the river, strolling around the tropical gardens, learning about the dying traditions of the indigenous cinnamon peeler or wandering the local markets, temples & antique shops. The hotel can also arrange for you to watch one of the weekly Devil Dance & Kandyan Dance performances at the local dance school. The cuisine at The River House is also famously good. So even if you can't find time to stay here, do stop over for lunch on your way from Colombo to Galle. There is a collection of Thai, Indian and Sri Lankan dishes, such as prawn and lychee curry, crab noodles or ginger chicken. They also serve the traditional Sri Lankan curry dinner, which is roughly nine dishes!!
There are five large private suites and open lounges with great views. Each suite has a private garden and there is a spectacular tree-lined main pool with an adjoining pool house. Accommodation rates come in between $300–$450 per night, but as always it's well worth contacting Taru to see if you can get a discounted price.
Photo via http://www.lanka.com/
Originally posted on July 3, 2010 @ 1:42 pm