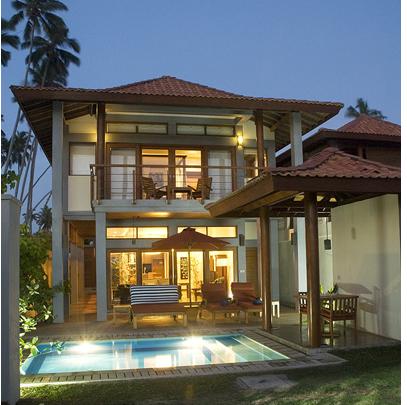 Some people like to travel to experience new adventures; to get out of their comfort zones. Then again, there are those who expect only the most luxurious things on vacation. If you belong to the second type of traveler, and you are looking for only the finest, I should let you know all about Serene Pavilions.
I have to thank one of our readers, Richard, for bringing my attention to this resort.  Serene Pavilions can be found at No. 20, Upali Mawatha, Wadduwa, Sri Lanka; and it promises you one of the most luxurious experiences you'll ever have in your life.  It is considered a boutique hotel with 12 pavilions.
The small number of very private pavilions is situated right on the coast, with an excellent view of the Indian Ocean.  For people who are looking for a quiet place to stay, Serene Pavilions is hard to beat. Each pavilion is sheltered, without guests having to worry about being bothered by the others. Even better, each pavilion is so spacious that you'd probably get lost in one. Alright, that may be stretching things, but the pavilions in this resort have an area of 2,500 square feet each! That's more than enough space to bask in luxury and privacy anytime! There are two kinds of pavilion – one with a garden view and another with an ocean view.  Oh, and all pavilions come with your own personal butler!
What's there to do at Serene Pavilions?  There's the ocean, of course; but for
those who prefer the pool, they have one in the garden.  The pool has an embedded Jacuzzi where guests can melt their stress away. The pool also features a lava-stone heat resistant deck where guests can enjoy a meal or a drink. If that isn't luxury at its best, I don't know what is!
There is also a spa which specializes in Ayurveda.  The spa employs only the best trained therapists.  They offer a variety of treatments, and you may also opt to use the open-air Jacuzzi, which is of course private.
As for the food, the Pavilion Restaurant will certainly satisfy the most discerning of tastebuds. The fare is varied, with cuisines from the West and the East. Their wine cellar is also quite impressive.
If you're looking for something lighter and more relaxing, the Amritha Bar will cater to your needs.  It faces the west, making it the ideal spot to watching the sun set.  They have an extensive bar list, and the Barman's Drink of the Day is always something to look forward to.
Some more practical facts about Serene Pavilion:
• On the west coast of Sri Lanka, between the towns of Wadduwa and Panadura
• 45 minutes from the heart of Central Colombo-ideal for shopping in its stylish boutiques
• 63 kms from Bandaranaike International Airport
• 72 kms to the historic city of Galle – with its Dutch Fort and International Cricket Ground
• 140 kms to the famous inland city of Kandy – renowned for its Buddhist Temple of The Tooth
• 72 kms to Ratnapura- the city of gems famous for Sri Lankan cornflower blue sapphires
No doubt the Serene Pavilions is something that everyone has to experience at least once in his life.
Originally posted on April 18, 2010 @ 9:12 pm