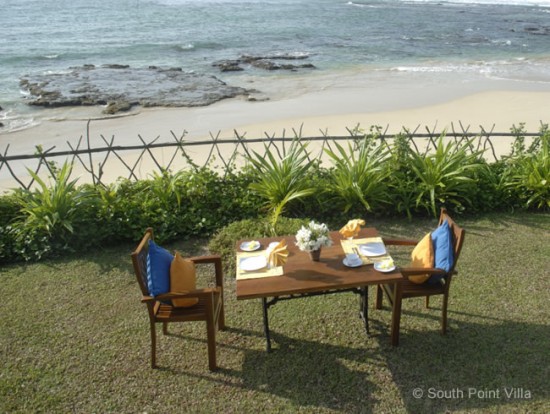 For families looking for an unforgettable beach or lakeside holiday, the South Point Villas come highly recommended for their superb service, food, location and comfort.
Luxurious yet simple, South Point Villas are comprised of three properties, all with it's own swimming pool, each with its own special charm. The South Point Villa on the beach is the largest, has three bedrooms and is the most elegant, adorned with period furniture and all the mod cons, including wireless internet. If rustic charm is more your style, try the South Point Abbey, an old Dutch house restored lovingly with two bedrooms, a study, and an infinity pool with jacuzzi. And lastly, those seeking complete privacy, the South Point Cottage on the banks of Koggala Lake has been called the perfect place for writers to be inspired! With expansive views of hills and the tranquil lake, this cozy retreat is in close proximity to a the charming local village and Buddhist temple.
Whatever villa you choose, the staff at South Point Villas are known for their flawless service. Families have raved on how their children were spoiled rotten by the chef, who would prepare all sorts of freshly baked treats to keep grumbling to a minimum!
But that's not all, perhaps the most outstanding thing about South Point Villas is the fact that the owner gives the profits back to the community by educating the poor villagers – and in fact has built a school and creche for them. If you book directly through the owner, Sonali, you can ensure that your holiday's payment does some good – something we wish all hotels did!
Originally posted on February 13, 2009 @ 11:17 am