When visiting a foreign place for the first time, it is important for visitors to have an idea of how they are expected to conduct themselves properly. There are specific customs, traditions, and rules of etiquette that need to be observed so as to avoid offending the locals. There is a common adage that says : "When in Rome, Do as the Romans Do". This is an idiomatic expression that essentially says that visitors need to adapt to prevailing practices so as not to "disturb the peace".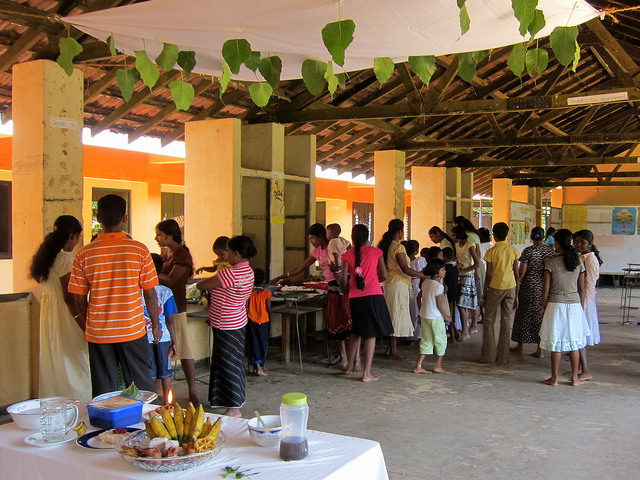 Image Source
Religion
The people of Sri Lanka place utmost importance to their religion which are mainly Buddhism and Hinduism. Most of the the prevailing customs, traditions, and practices are associated with religion. It would be sensible for visitors to respect this.
Observance of Hierarchy
Sri Lankans likewise give much importance to hierarchy in families, titles, and social status. The father or the oldest male member of the family stands as the head of the family. At work, the person who occupies the highest position is primarily responsible for the business and is therefore the only one authorized to make final decisions.
Saving Face
Sri Lankans will do everything within their power  not to lose face in their transactions and relations with others. Saving face therefore is a matter of grave concern for both parties. This is the reason why most Sri Lankans would prefer not to give a blunt refusal for any request and would rather give vague responses so the one requesting will also not lose face.
Greetings
The most common form of greeting is the handshake. However, many Sri Lankan women would prefer not to have any physical contact with men so it would be wise to wait for them to extend their hands. The proper address to a person is the title followed by the surname. An invitation to move to a first name basis is usually given when the situation calls for it.
Others
Flowers are not recommended for gift-giving as they signify mourning and so does the colors of black and white. Reciprocation is expected when someone receives a gift. Sri Lankans love to come together in meals. However, a visitor who is invited must know that eating does not commence right away. The first hour or so is used for socialization as the event is deemed finished several minutes after eating. Finishing all the food in the plate is a signal that one is still hungry so second helpings will be offered. Leaving a little means the person is full.
Originally posted on November 30, 2013 @ 8:31 am