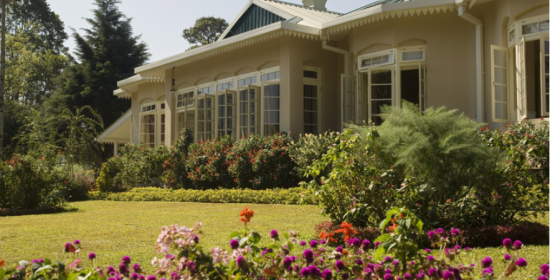 Perhaps one of the most obvious and desirable things to do when traveling to Sri Lanka is to to visit the tea country. As TeaAuction.com writes:
"The Sri Lankan tea industry is the country's largest employer providing jobs directly and indirectly to over a million people. It also contributes a significant amount to Government revenue and to the gross domestic product. Sri lanka is the 3rd biggest tea producer with a market share of 9%. The total land used for tea cultivation is approximately 187,309 hectares. Sri Lankan tea has unique characteristics and reputation as arguably the best teas in the world. The ideal climatic conditions of the plantation give the teas a variety of rich flavours and aromas, which indicate high quality."
But with such a huge variety of choice and large distances to cover, where should the luxury traveler go to get a taste of the "Ceylon tea experience" while at the same time being able to relax and travel in style? We recommend Tea Trails…..
Tea Trails is in central Sri Lanka, four hours from Colombo by car to the Castlereagh Lake. It lies in the Bogawantalawa Valley, known as the Golden Valley of Tea and home to old Ceylon, replete with rolling green hills, plantation bungalows, high tea and exquisite service. Sri Lankan locals like to call this area "Little England" as it rains so much! The estate sits at an elevation of 4000 feet above sea level. There are four classic colonial bungalows built for British tea estate managers in the days of the Raj. These historic houses have been restored by Dilmah Tea with the co-operation of Bogawantalawa Tea Estates, to offer guests the unique experience of life on a working tea estate. Bungalow sizes range from 4 to 6 rooms- in all there are 20 luxurious rooms and suites. However, it is the ambience that makes the hotel so special in our opinion:
"Life in all its variety is played out in the living rooms. Pale tones and natural wood create equilibrium in the midst of a hectic life. Each bungalow has many sitting areas, old wooden desks to write postcards with real stamps and not just email. Silk cushions, regency stripped footstools, huge spaces warmed by roaring log fires. Mulled wine or the finest spirits, a drink that thrills the heart. Old books, old prints, antique maps, rooms filled with flowers in vibrant colours. Wide verandahs. Time for relaxing on cushioned cane chairs, waited on hand and foot by the discreet butler. Long expanses of slate to spend long afternoons, with a gimlet, white wine and cucumber sandwiches or fresh roasted cashews. Watch the lake and study the garden bees, while reading Somerset Maugham."
The cuisine at Tea Trails is also excellent:
"Long teak tables and chairs in old gold. Moonlight through the window gently glows in the room, filled with the light of candles. Fine cuisine. Tea infused dishes. Sri Lankan classics. Seafood grills, fresh tropical fruit, rich chocolate cakes, the finest wines and vegetables from organic plots around the estate. A formal dinner or a simple alfresco lunch. Meals, wines and spirits included in your rate, no bills to sign. A butler at your beck and call."
All in all, Tea Trails is the perfect place to explore Sri Lanka's tea country from- a truly luxurious, "boutique" travel experience. You set your own pace while at Tea Trails and can unwind in the beautiful gardens, visit a factory for a gentle education in the art of Ceylon Tea, have a spa treatment or spend an adventure-filled day biking, trekking and white-water rafting. The views from all parts of the hotel are incomparably stunning.
Accommodation rates vary hugely according to how many are in your group. For a double room, prices range from $200 – $300. Best to contact the hotel directly to arrange what suits you best. Tea Trails is also part of the Sri Lanka In Style group who can also arrange a luxury tour for you.
Image via Tea Trails
Originally posted on March 30, 2009 @ 10:53 am