From a cutting of Buddha's fig tree, rose the Sacred City of Anuradhapura, so goes the story of one of the ancient cities of Sri Lanka. The ancient and sacred city of Anuradhapura is well-known for its well-preserved ruins of the country's ancient civilizations. It is believed that most of the ruins found here date as far back as 10th century BC.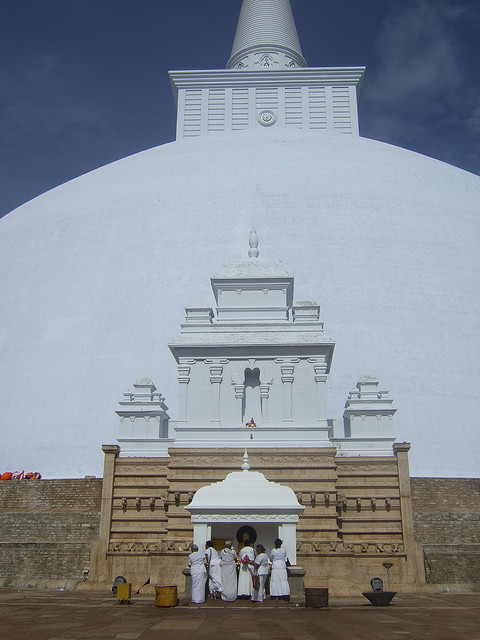 A Place of Veneration
There are at least eight great places of veneration in Anuradhapura.  These include Sri Maha Bodhiya, Ruwanwelisaya, Thuparamaya, Lovamahapaya, Abhayagiri Dagaba, Jetavanarama, Mirisaveti Stupa, and  Lankarama. Sri Mara Bodhiya is the famous Bodhi Tree which is said to be a direct descendant of the Sacred Fig Tree planted in Bohd Gaya in India. This tree is where Gautama Buddha is said to have achieved spiritual enlightenment.
Because of this religious significance, Sri Mara Bodhiya has become a regular stop for pilgrims and therefore a major pilgrimage site. The Ruwanwelisaya, the picture of which is shown above, is a stupa possessing unique architectural properties as well as sacred significance in Sri lanka. Stupas are mound-like or semi-hemispherical structures that contain Buddhist relics.
The Thuparamaya , likewise a place of veneration in Sri Lanka is another example of a stupa or dagoba. This is where the collarbone of Buddha was enshrined. Although repeatedly damaged and destroyed, it has always been restored and renovated. Lovamahapaya for its part is believed to have been planned by the heavens. It is differentiated from other structures by its bronze-tiled covered roof.
And Still More Places of Veneration…
Anuradhapura is considered as one of the most sacred Buddhist pilgrimage cities in Sri Lanka. Abhayagiri Dagaba represents a complex of monastic buildings although its focal point is again an ancient stupa. More than a place of veneration, it has also become a place to learn about different aspects of the Buddhist philosophy.
The Jetavanarama is again one more stupa located in the ruins of a monastery. In this stupa lies a part of the sash or belt tied by Buddha. It is said to have housed at least 10,000 monks and is considered one of the tallest structures of the ancient world. Mirisaveti Stupa was built where a sceptre believed to have contained a relic of Buddha stood. There is not much known about Lankarama except that it was built by King Valagamba .
By the good number of places of veneration in Anuradhapura, it is easy to understand why it is considered a sacred city. Travelers who are especially fond of discovering sacred palces will not be disappointed with Anuradhapura. This is a travel for the body as well as the mind and spirit.
Originally posted on September 29, 2013 @ 5:29 pm