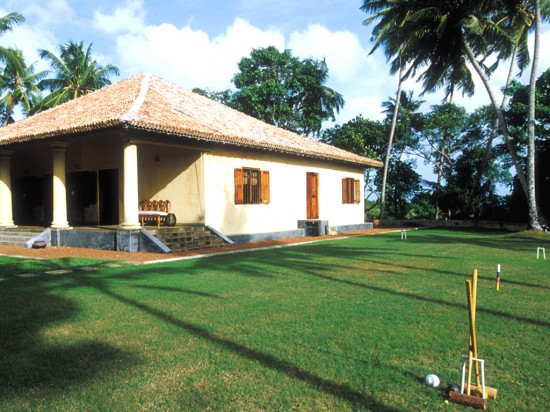 One of the best things about the Dutch House, is that it is more like a graceful colonial home than it is a hotel. A short walk (or drive, in a charming vintage car no less) up the high Dickson Road, The Dutch House is perched on a tranquil space overlooking Galle Fort, in close proximity, yet set apart from it's more lively sister hotel, The Sun House.
At first sight, though, one could come to the conclusion that the simple architecture and "no-frills" look of faded yellow ochre (again, unlike it's flirty sister in white, The Sun House) could be less than welcoming. But once you enter your suite, you are thankfully proven wrong. Far from being austere, the huge four-poster beds are invitingly draped with mosquito netting, with the antique wooden doors opening up to the landscaped gardens or croquet lawn, definitely adding a feeling of warmth and relaxation.
Also called Doornburg, the Dutch House's origins go as far back as 1712, making it one of the most well-preserved historical houses in the area. But that's not its only claim to fame. After the Tsunami in 2004, pop superstar Sting called the Dutch House his home in Galle, obviously preferring the understated elegance and privacy of the old merchant's house compared to other hotels in the area. With just four suites (Sting stayed in the enormous, cathedral-ceiling Ballroom, pictured above) in the property, each one has a style of it's own, yet all of them carrying the same classic colonial design, filled with fine antiques, richly colored tapestries and fine silk fabrics. The bathrooms are large, pale and spare, simply fitted out with not much more than a bathtub, claw-foot if you prefer. Perfect for a soak after a long day exploring the area of Galle, which is just a stone's throw away from the hotel.
Another wonderful reason to stay at the Dutch House are the magnificent views, perhaps the best in all of Galle. Whether you are seated at your suite's veranda for afternoon tea, or on a lounger by the simply gorgeous infinity pool, you'll be spoiled by the views, ranging from the lush jungle to the ocean, to the picturesque town below- which can be even more stunning in the evenings. One warning- while many find it wonderfully atmospheric, others find the sounds amplified by a loudspeaker from the local Mosque a bit irritating 😉
Included in your suite's rate of $320++ is breakfast, which can be English, Continental or Sri Lankan (hoppers!) and is conveniently served at any time of day, anywhere you wish. While light lunches and snacks (consisting of pan-Asian cuisine using delicate flavours like tamarind and coconut cream) are served around the outdoor areas, dinner is usually taken next door at the Sun House, whose chef is renowned as one of the best in all of Galle.
As we said, this hotel is the ideal choice for those seeking comfort and privacy in elegant surroundings, but it is also ideal for a large group of friends or family. Indeed, many have chosen the Dutch House for weddings, parties and other special occasions, and because the property is so special, it is not hard to see why.
To make a booking, we recommend doing it directly through the Dutch House's website, where you'll find the right email and contact information. If you have any questions, or are planning a special occasion, it would be a good idea to contact the very efficient and delightfully flamboyant Henri Tatham, manager of the hotel. It may also be useful to know that the Dutch House is part of The Tabrobane Collection, a group of luxe properties around the country owned by Geoffrey Dobbs, each one fabulous in its own way and if you like their particular style- it's perhaps a good way to plan your itinerary around whilst in Sri Lanka.
**photo courtesy of Sri Lanka in Style**
Originally posted on August 12, 2011 @ 12:41 pm