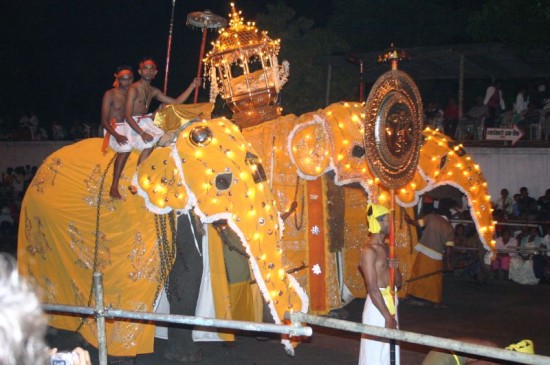 The Perahera in Kandy is one of the oldest and most amazing Buddhist events you can still see today in Sri Lanka. Imagine a colorful display of elephants dressed in full regalia, men cracking whips, dancing, making music, rituals, fireworks and more….culminating in the final night when the longest and most splendid procession takes place.
The tradition goes back as far as the 3rd Century BC, as a means of asking the gods for rainfall – the same reason it takes place today. Another reason for the celebrations (which has no less than five separate peraheras– or parades) is for the local people to honour the sacred relic from the Temple of the Tooth, which was once only seen by the kings. Today though, it is a replica casket paraded through the streets as the relic is no longer allowed to leave the holy temple.

Although I haven't been to the Perahera myself (I promise myself I will next year!), I have heard that it is indeed an awesome show. A good friend reported it was the most thrillingly amazing festival he had seen in his life, which says a lot considering that he is an octogenarian who has traveled the world extensively!
The Esala Perahera is translated from Sinhalese as "Procession of the Full Moon of Esala", and takes place annually in July/August. This year, the festival takes place on July 26th to August 5th, 2009, and while the event is free, we highly recommend that you book your hotel and plane/train tickets early as it probably the most popular events in Sri Lanka! If you haven't yet, you could try some websites like Jetwing Travels or Last Minute.com. Read their description of the parade- wonderful!:
The procession includes fire-juggling acrobats, sumptuously decorated elephants, traditional dancers, oboe-tooting musicians, banners, palanquins, whip crackers, torch bearers and thousands of barefoot pilgrims and swordsmen….The action is made even more mesmerising because it happens at night. The old cannon booms after dusk and the Perahera (paraders) take to the streets for ten nights, with the parades growing ever longer each night until the final night of pageantry, when the parade is at its finest.
For a good collection of photos to see more of this fantastic event, please click here.
Image via Wikipedia
Originally posted on July 15, 2009 @ 12:38 pm