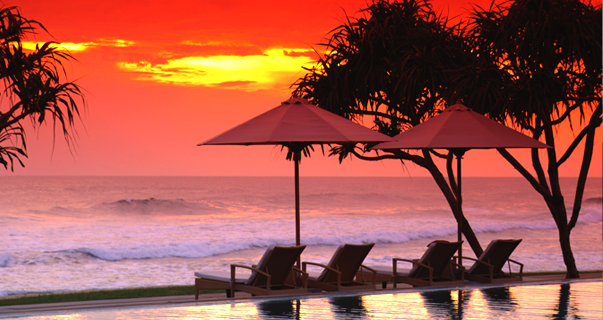 The Fortress Hotel is perhaps the grandest hotel in Sri Lanka of all. Owned by reputedly the richest family in Sri Lanka, it is part of the Per Aquum group of resorts, who also have a large presence in the Maldives and the Seychelles. The Fortress only opened its doors in 2007 and has certainly started with a bang, often being fully booked (especially for weddings and large functions) despite the negative news coming out of the Sri Lankan tourism industry.
The hotel is in a glorious location, set right on the Indian Ocean seaside and close to Koggala Lake, about a 20 minute drive from Galle. What sets apart the hotel from many of its competitors is not just its location, though, but its magnificent architecture and ambience, both outside and inside. We don't often like to quote off a hotel's own website, but in this case they have it spot on:
A hotel fashioned in the style of a powerful fortress. Rising next to the beach, the resort's walls enclose verdant gardens and water features, a spa featuring Ayurvedic treatments, a freeflow swimming pool, wine cellar, restaurants, boutiques and exquisitely appointed rooms, lofts and residences. The resort's architecture forges historic Dutch and Portuguese styles with the motifs of Sri Lanka.
There are 47 guest rooms, all stylishly decorated with a Colonial effect and Modern finish. There are five choices, each with its own different views and appeal: the fortress room, the beach room, the ocean room, the ocean loft and the residence. There is also a glorious spa: the Lime Spa, which specializes in traditional Ayurvedic treatments. And let's not forget the culinary and gourmet aspects, be that the main restaurant lounge by the pool: Pepper; the modern cave for a fine glass of wine; Heat: where delicious tapas are served by the sea; a dedicated Tea section to enjoy Sri Lanka's most famous export and the Sea Lounge where you are allowed to enjoy just one fruity cocktail too many!
Oh! and the main attraction itself: the most decadent and luxurious infinity swimming pool that one could hope for. Of course, all of this doesn't come cheap. You're not going to get a room for much less that $500 per night, although if you contact the hotel directly, they may give you 20% off if it's during a quiet period.
We couldn't recommend the Fortress Hotel more highly for those that want a luxury holiday in Sri Lanka!
Originally posted on May 4, 2011 @ 9:32 am