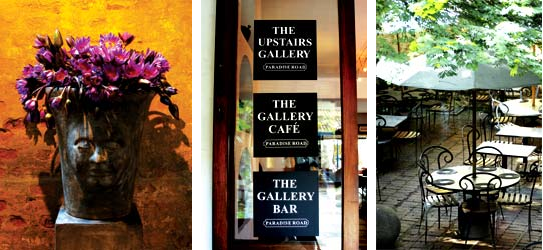 One of our favourite places to eat and shop in Colombo is The Gallery Cafe. Previously the studio of Sri Lanka's most famous architect, Geoffrey Bawa, the cafe most definitely carries his mark, and is easily the most stylish restaurant in the bustling capital and often crowded with the "who's who" of the Colombo jet-setters and expat community.
Although it is located right at the heart of Colombo, the minute you enter the Gallery Cafe's doors, you feel as if you have entered a tropical oasis. An open air courtyard, latticed doors, tranquil ponds strewn with purple "nil manel" (Sri Lanka's national flower), comfortable seating and fabulous art everywhere, its the perfect place to relax after a busy day exploring the city.
Start off at the the No.18 Bar and be sure to sample their famous martinis, then after a stroll around the gallery area, pop into the shop for some lovely home items and wooden toys for the children. Then head for your table at the open-air dining area, and feast on the restaurant's fusion menu by candlelight.
This week's specials:
Chickpea, risoni, egg and tomato salad with vinaigrette dressing.
Roast leg of lamb with polenta, caramelized onion and mint jelly.
Char grilled duck with teriyaki sauce and pasta.
Tuna stack with salsa verde, aubergine, tomato, basil and mozzarella.
Shitake mushroom on puff pastry with parmesan, walnuts and salad.
Strawberry sundae strawberry red wine ice cream with strawberries, mascarpone, cream, kirsch and almond praline.
A meal for one will cost approx. $15 without wine. Your hotel concierge will know the place and can book you a table.
Originally posted on January 29, 2009 @ 1:30 am