Sri Lanka is well known intertionally for its lovely beaches. But those beaches are not all its treasures that attract tourists to the country each year.
The hills of Sri Lanka also boast of great attractions many of which are mirrors of its past. Tourism authorities have, in fact, recorded an increase in culture and excursion trips to the hill country in the last few years.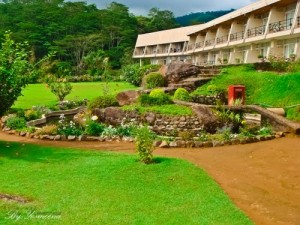 Kandy, in particular, has overtaken Colombo City as Sri Lanka's top tourist destination. A recent survey showed that in 2011, close to 63 percent of respondents claimed visiting Kandy.
Kandy is the second biggest city of Sri Lanka and lies on rocky hills and tropical tea plantations. It is considered a romantic city to visit any time of the year. Here, visitors can enjoy amazing views of nature including a lake and take the opportunity to learn about its rich culture and heritage.
Tourists looking to spend a luxurious holiday in Kandy can book at Hunas Falls by Amaya. This beautiful resort situated on a hill has everything in place that guests need not go anywhere else to have a truly relaxing stay.

Hunas Falls Resort has an outdoor pool, spa center, a golf course, tennis lawn, library, shopping boutique and lakeview restaurant. The restaurant offers a fantastic view of the man-made lake several feet below it and scrumptious international cuisine. Whether a la carte or buffet, guests here can enjoy a wide variety of food from the local cuisine to the Italian, Middle Easter, Japanese and Western.
For some body pampering, try the various body and facial treatments as well. The ayurvedic treatment, in particular, is meant to take off the tension in your body and rejuvenate your soul.
For the adventurous guests who would like to explore Kandy, attractions worth visiting are the Dambulla Cave Temple, one of the most impressive in the country, the Temple of the Sacred Tooth Relic, the royal palace and the Elephant Orphanage.
Photo via panoramio.com
Originally posted on November 24, 2012 @ 1:08 pm