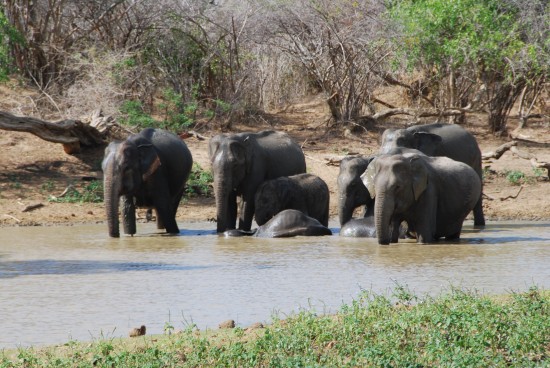 One of the most interesting places to visit in Sri Lanka is the Yala National Park. With the interest in eco tourism continuously increasing these days, this national park welcomes a steady stream of visitors. Eco tourism is perhaps one of the most significant developments in the travel industry today. We have all seen – and are seeing – what we've done to the environment. And, while we can travel all we want, we cannot ignore the fact that we need to pay more attention to our surroundings. No matter how luxurious a trip to Sri Lanka may be, we also need to take a look at the impact of our activities on the environment. And, that's where eco tourism comes into the picture.
Going back to the premier eco tourism destination in Sri Lanka – Yala National Park – any environmentally conscious visitor absolutely cannot miss it! Yala National Park is not very near Colombo. In fact, it is about 300 kilometers from Colombo and is much nearer to Tissamaharama – about 24 kilometers northeast.
This national park covers a huge tract of land, more than 100,000 hectares of it! With this size, Yala National Park offers visitors a huge variety of ecosystems – the eco tourist's idea of heaven! From monsoon forests (both humid and dry) to thorn forests to deciduous forests – you can find them all in the national park. There are also wetlands as well as sandy beaches. Indeed, Yala National Park will not bore you for one minute.
If you're a leopard enthusiast, then you will Yala National Park as it is widely recognized as one of the best places in the world to observe this magnificent animal! For this activity, you have to visit Yala West (Ruhuna) National Park , which covers a huge block of land. FYI, the Sri Lankan leopard is the largest of its kind in Asia. There are about 30 leopards in the park; and, while that may seem few, it is the highest density of leopards in the entire world!
There are countless land based and water based activities that visitors can undertake in the national park. For the former, you can take your pick from leopard watching, bird watching, caving, cycling, mountain biking, hiking or trekking, offroad adventures, rock climbing, and safaris. For the latter, the choices are just as varied: fishing (both inland and deep sea), kayaking, snorkeling, scuba diving, surfing, turtle watching, whale watching, dolphin watching, white water rafting, water skiing, and wind surfing. And, that's not even the full list!
Important info: the best time to visit is between May and August, when the weather is quite dry. Also, the park closes for a bit sometime in September and October.

If you're interested – and I can't see why anyone would NOT be interested – in visiting Yala National Park, you can visit their web site for more specific information. In this day and age, responsible and conscious tourism (as I like to call it) is something that we all ought to engage in.
Originally posted on March 26, 2010 @ 9:15 pm